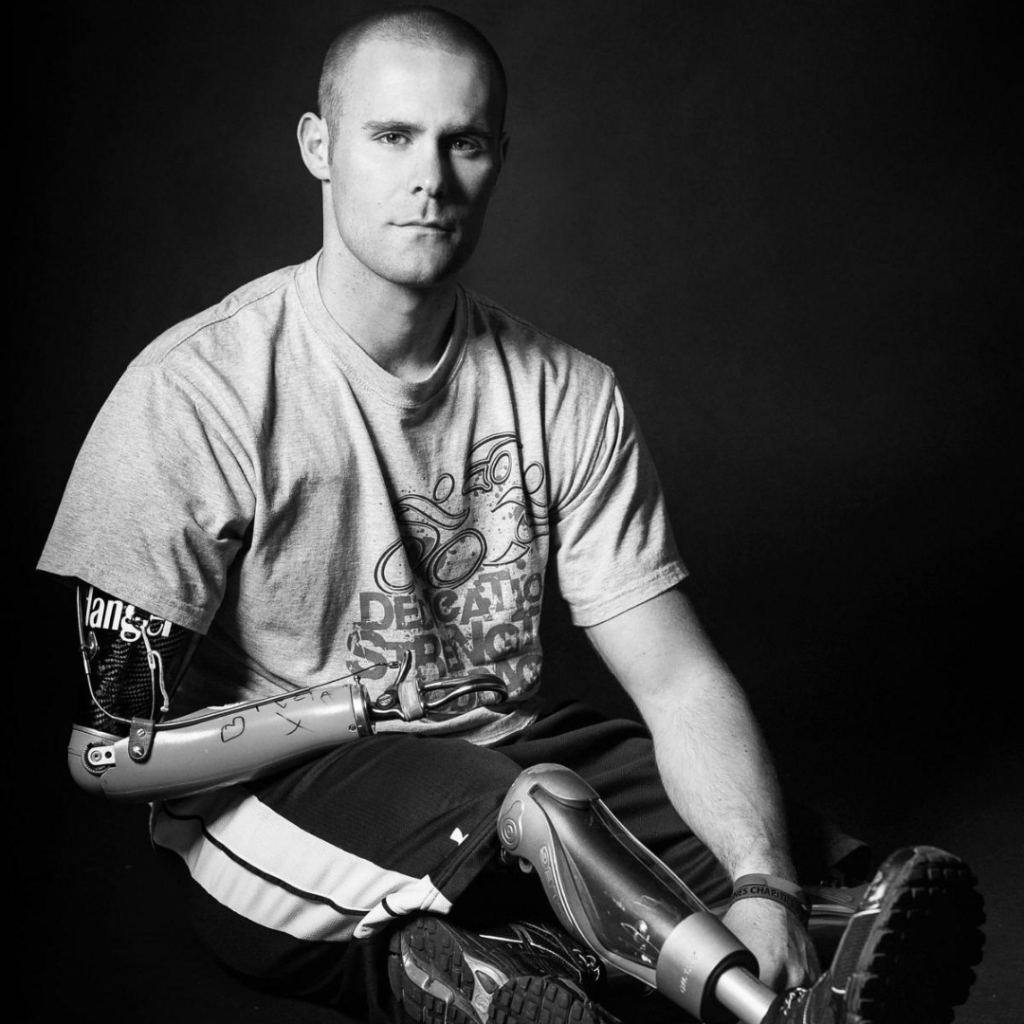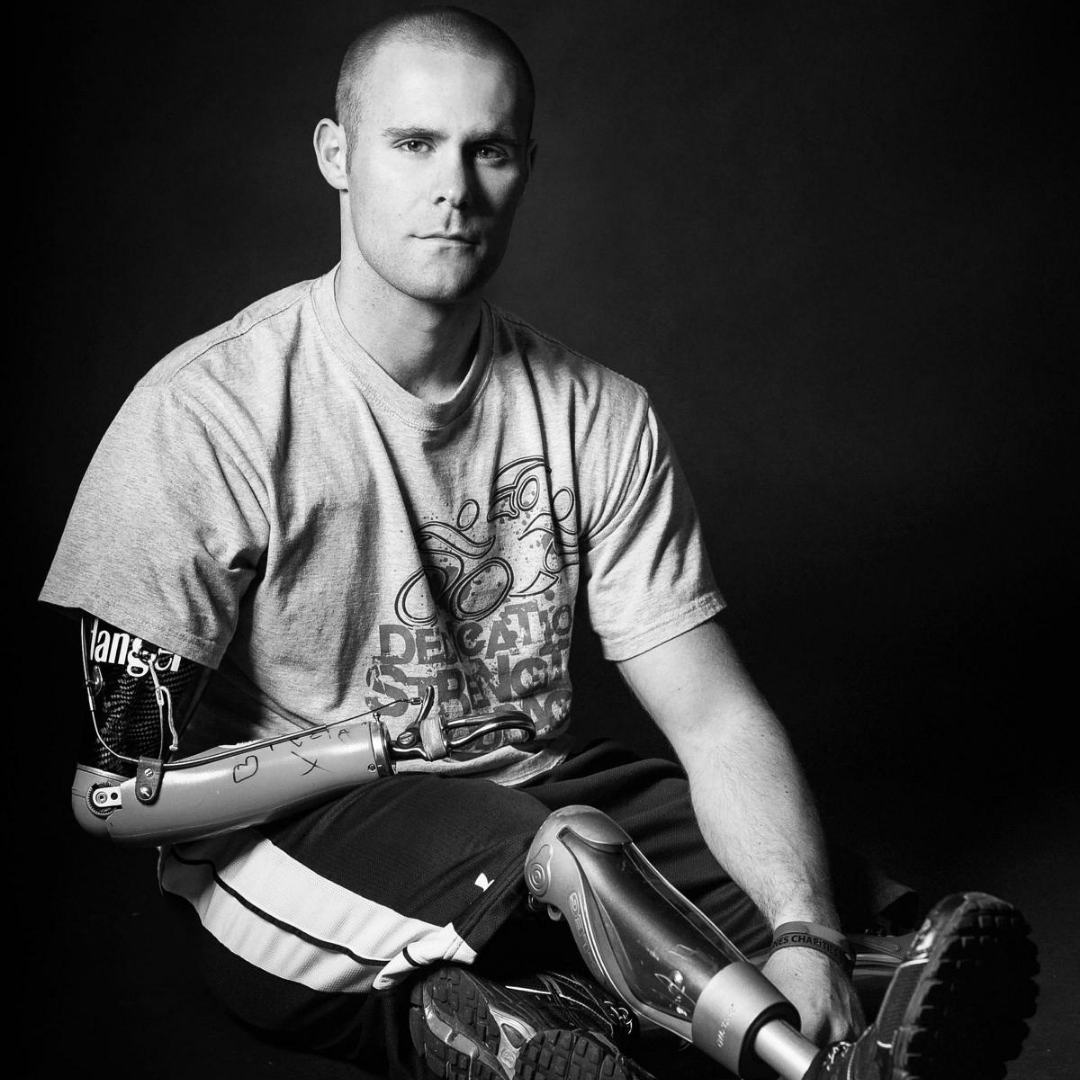 Mark Ormrod is Royal Marines veteran having served since he was just 18 years old. After a Christmas Eve that changed his life forever back in 2007 during his service in Camp Bastion, Mark went through a remarkable journey that he now shares with the world successfully through his various platforms.
Mark is now living life to the fullest as a father, husband, eleven-time Invictus Games medallist, motivational speaker, author.
Some people talk about expertise some about their stories.
In Afghanistan, became UK's first triple amputee to survive since WW1.
"The industry's changing and we gotta change with it if we want to stay relevant."
Towards the end of HS arrived at the decision of joining the military.
Wanted to join the marines to see if he had what it takes.
Got his green beret at 18 yrs old.
4 weeks before finishing training witnessed 9/11.
Got assigned to Afghanistan – Sent to Iraq in 2003
Got the first taste of war at 19.
2005 first daughter was born decided he was going to leave and focus on his family.
Decided to rejoin the military in 2007.
2007 got deployed to Camp Bastion. Morale was high.
Christmas got locked down.
Christmas eve. Knelt on and denoted an explosive device.
Felt that he let his team down.
INVICTUS
10 years before Invictus games.
Main goal was to be completely independent.
Has seen friends compete and has seen the improvement in their life
"When you go through something traumatic like this, you've got to have that focus and those goals."
"As long as it lights a fire in you, then that's good enough!"
RECOGNITION BY THE ROYAL FAMILY
Felt embarrassed initially
Going to Buckingham palace after COVID
Went to Prince Harry's wedding
Resources and Important Links
How you can listen and access the show
Four Brothers Mead: How To Get Started With Brewing Mead?
Craft breweries of all shapes and sizes represent a very large market these days. Craft beer as an industry generated more than 29.3-billion dollars in 2019 alone. You can find beers, meads, wines, and a variety of spirits, crafted by entrepreneurs from every imaginable background. You can find products and beverages to suit your taste, your interest in the process by which the drink is made, or even just your desire for a good story.
Supporting small craft breweries is a fantastic way to support small businesses. It also gives you an excuse to try something new. Have you ever tried mead before, an alcoholic beverage made from honey and water using fermentation? Have you always wanted to? Maybe, you're already a fan, and you've been looking for something distinctive and exciting to try.
If you answered yes to any of those questions, and you want to support an amazing small business at the same time, you're going to want to stay tuned for my conversation with Four Brothers Mead!
In 2018 alone, the global sports market hit a value of approximately $471 billion dollars. We like sports. We like sports so much, millions of people around the world create and manage their own teams and leagues. This would be the fast-paced world of fantasy sports, which is only getting more elaborate as digital technology continues to evolve.
Simply put, if you want to get into fantasy sports, you're not going to be lacking in options. While games like football remain the most popular for fantasy sports, you can find leagues and players for any sport you can imagine. It has unquestionably become an industry unto itself.
However, because fantasy sports represent such a massive entity, newcomers can feel a little overwhelmed getting off to a good start. If you consider yourself to be one of those people, you're going to get a lot out of today's episode!
If you love everything about responsible firearm ownership and the 2nd Amendment, it seems likely that you're always on the lookout for new vendors to support. You want a business that not only meets your firearm purchasing needs, including customizations, but will also include you in a community that is built around advancing firearms knowledge in the most useful and practical fashion possible.
While there is no shortage of gun and ammo shops, online or elsewhere, this is one area of interest where you want to be sure you're trusting what you need to responsible, passionate, and knowledge firearm experts. These are some of the oldest and most powerful tools human beings have ever created. It just makes sense to want to get them from a business that truly understands what you are holding in your hands.
If you're looking for gun customization experts who truly know what they're doing, then you're definitely going to want to stick around for today's interview!